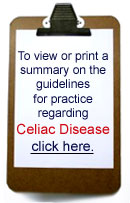 Celiac disease is more common than previously thought.
A recent study (Fasano, A. et al.(2003). Prevalence of Celiac Disease in At-Risk and Not-At-Risk Groups in the United States. Archives of Internal Medicine, Vol. 163 (3): 286-292) found that in first degree relatives the prevalence of celiac disease was 1:22, 1:39 in second-degree relatives and 1:56 in asymptomatic patients. In the not-at-risk group, the prevalence was 1:133.
Celiac disease is now found to be twice as common as cystic fibrosis, Crohn's disease and ulcerative colitis combined.
The misconception of celiac disease as a "rare" disease continues to cause delays in diagnosis. In a Canadian study, (Cranney, A. et al. (2003). The Canadian Celiac Health Survey – The Ottawa Chapter Pilot. BMC Gastroenterology,Vol. 3 (8): 1- 11) found the length of time between onset of symptoms and diagnosis was up to 10 years. Further, over 21% of respondents had consulted 2 or more doctors prior to a diagnosis.
When celiac disease is undiagnosed and untreated it can lead to severe complications including anemia, osteoporosis, infertility and in some cases lymphoma.
In 2004, The National Institute of Health released a consensus development conference statement on celiac disease which stated that, "heightened awareness of this disease is imperative".
Please consider celiac disease when treating your patients.
Related Resources: